Nikken Pimag Water System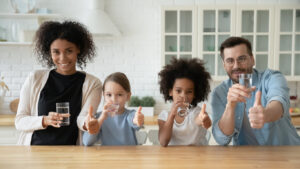 The world is constantly evolving, and so is technology. It is no surprise that there are advanced technologies in the water filtration industry. The Nikken Pimag Water System uses advanced  technology to ensure that the water you drink is not only clean but also healthy.
The Pimag System incorporates magnetic technology that softens water, making it more palatable. It also alkalizes water, which improves digestion, energy, and overall well-being. It is indeed a game-changer in the water filtration industry, and it would be a disservice not to take advantage of it.
All In One Filter System for Tap Water
The unique Nikken water dispenser is an "all in one" filter, meaning it removes contaminants, restores minerals, and even balances pH levels. Plus, it's easy to install and maintain.
No more cluttered countertops with multiple filters and devices. With the Nikken Water Filter, you can have peace of mind knowing your water is safe to drink and tastes great too.

Exclusively Offered by Nikken
If you're looking for a water filtration system, the Pimag water system is one of the best options on the market. But did you know that it's only available from Nikken?
This system is exclusive to Nikken, and for good reason. The pimag water system uses a combination of advanced filtration technologies to provide clean, pure, alkaline water that's free of impurities and contaminants.
And because it's only available from Nikken, you can be confident that you're getting the highest quality product and the best possible support.
Cutting-edge Silver Activated Carbon Filtration System
Drinking clean, filtered water is essential for a healthy and happy life, and the Nikken Pimag Water System has found a way to do just that.
With its innovative design, this system provides natural water filtration with silver activated carbon. This means that the water is not only filtered, but the silver in the carbon helps to kill bacteria and other harmful substances.
Say goodbye to the taste and odor of chlorine, heavy metals, and other impurities commonly found in tap water.
With the Nikken Pimag Waterfall, you can now enjoy refreshing water that is not only free of contaminants, but is also rich in minerals and natural electrolytes for ultimate hydration.
Upgrade Your Kitchen Counter Top
The Nikken water filter is an excellent solution for those who want the convenience of having filtered water right at their fingertips.
This outstanding kitchen countertop filter provides a simple and effective way of removing impurities from your tap water, including chlorine, lead, and other contaminants that can affect the taste and quality of your water.
With its easy-to-use design, the Nikken water filter is a must-have appliance for every household. You won't need bottled water ever again and live a healthier life.