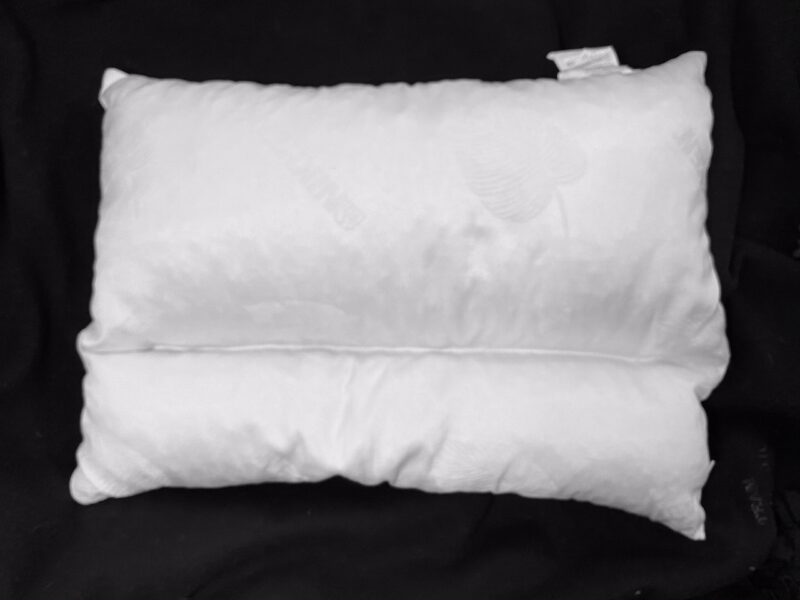 The KenkoNaturest Custom Pillow Description
This Nikken pillow is the perfect pillow whether you prefer a soft or firm pillow. You can adjust the firmness as you choose and change whenever you like. You simply remove or add back the latex filling to the Nikken Kenko magnetic pillow. You are even able to adjust the neck support separately from the head support. You will get your personal perfect fit with the Kenko pillow.
The problem with most pillows is the filling flattens over time. You won't have that issue with the Kenko latex filling pillow. This special filler is made of rolled natural latex, which will give you the feeling of sleeping on a cloud. You will enjoy this pillow for years. Spinal alignment is extremely important when choosing a pillow. The Naturest pillow has an insert that separates the head and neck support. This will provide the best custom support that you can get in a pillow. Good support provides comfort.
This magnetic therapy pillow has magnets arranged to surround your head in a cocoon of magnetism. This will promote relaxation and comfort for your head and neck.
Nikken Products are second to none in their design.
Here are the benefits of the features:
• This Nikken Kenko Pillow is different because of the patented DynaFlux magnetic Technology with 360 degrees of relaxing magnetic coverage.
• The magnets are positioned so that they penetrate deeper creating more relaxation.
• There is no other magnetic pillow pad with static magnets that delivers this magnetic coverage.
• This is a pillow with hypoallergenic filling, perfect for those with allergies.
• This Kenko Dream Pillow is made in the USA, so you are supporting our countries workers when you purchase it.
• The Naturest Pillow has a natural latex core with natural cotton/wool, and it has a viscose cover for dreamy comfort.
• Its a maximum support pillow with non allergic filling perfect for conforming to the shape of your head, neck and body with just the right amount of fluffy support at your desired thickness. You may want to sleep with several of these pillows.
• The best Kenko Pillow Benefit may be the energetic support provided by the opposing magnets inside the pillow with magnetic technology. This positioning creates energy shifts in the magnetic field as you move your body while you sleep. The shifts increase the magnetic field penetration into your body for better support. Besides your head and neck, you can use the pillow to support your arms, legs, back, abdomen to enhance your rest.
• This Nikken Magnetic Pillow, unlike a down or foam pillow, will not compress and flatten out. You will enjoy the custom fit of this magnetic therapy pillow with its built-in neck roll for years to come. When you sleep on it you may notice that your neck, shoulders and back may feel much lighter and more comfortable. People who suffer from headaches and autoimmune conditions report really appreciating the support and feeling it gives them.
GET YOUR PILLOW HERE:

DETAILED PRODUCT CONTENT LIST
MAGNETIC GAUSS 900 gauss
PRODUCT FILLER Natural latex core, Natural cotton/wool/viscose cover
DIMENSIONS 25" x 19"
MAGNETS IN EACH PILLOW 6 Kenko PowerButtons®
CLEANSING INSTRUCTIONS Spot clean only. Do not remove cover. A mild detergent may be used if necessary. Air dry.
WARRANTY 1-Year Nikken standard limited warranty
WARNING If you use an electronic medical device such as a pacemaker, have a magnetically sensitive surgical implant, are in the first trimester of pregnancy or have health problems, consult a physician or the manufacture of the electronic medical device before using magnetic products.
How Important is Your Pillow for Sleep?
Sleep is vital for wellness.
Without a good quality pillow, you will not create a sleep space that promotes optimal wellness. Choosing the correct pillow is essential for creating your personal sleep environment. Most people do not know how important choosing the correct pillow is. Instead, they believe as long as they have chosen a good mattress and comforter that they will have the sleep environment that is optimal for them. But without the correct pillow their sleep environment will not be complete.
Comfort and support are the two main jobs of a pillow.
The pillow must cradle your head so that your neck and upper back are properly supported and in alignment. Some pillows are too hard, and some are too soft. Sleeping without a pillow is really bad for your body's alignment and will result in discomfort. Our necks have a natural curve that needs to be supported so that we are comfortable enough to get adequate sleep. Without the proper support you will have a stiff neck when you awaken in the morning.
You may be thinking that comfort can only be measured by the person who is experiencing it and wondering how you can know if a pillow will be comfortable before you purchase it. You will want to consider the position you sleep, your weight, your height and if you have any health challenges, which might determine your need of support from pillows at different parts of your body.
The three most common sleeping positions are: back, side and stomach. Each sleep position has specific support needs from your pillow. Finding one that can provide all these, can be difficult, but there are some good options available. Adjustable pillows are probably the best option.
Back sleepers need a pillow to support the natural curve of the spine from the upper back to the neck. The pillow should hold your head level with your shoulders. A roll that supports the neck is helpful and will allow the muscles and the tendons to fully relax. Thinner pillows with the ability to contour are usually the most comfortable. If the pillow is to thin it won't support your neck if to thick it will push your head forward which can contribute to snoring.
Side sleepers need a pillow that will support their neck and keep their head straight. Side sleeping can be very healthy if you have the correct support. You will want to choose a thicker pillow or a pillow with a roll to fill the space between your shoulder and your head. Your pillow should raise your head slightly to make it level with your shoulders and keep the head straight at the same time.
Stomach sleepers need a thin pillow. Stomach sleeping tends to misalign the body. When you choose a thin comfortable soft pillow, you can bring support to your neck and head without pushing it out of alignment. If you sleep on your stomach with a twist to your side, you will want extra pillows to support your back, stomach, and legs.
Beyond your sleeping position, choosing a pillow that will fill your needs is mostly about personal preference. You probably don't sleep in the same position all of the time. Consider the two positions you sleep in most and choose the pillow that provides the best support for those two.
The other consideration in choosing a pillow is which filling will work best for you.
There are many choices today in pillow fillers. Some are designed to be more firm and some to be more soft. Be sure that you are taking into consideration how the pillow's filler will provide support for you in your two favorite sleeping positions. Traditionally down and feather fillings were the most popular in pillows. They are incredibly soft, but the problem with them is that they pack down over time and stop providing the support that they did when new. Often times people with allergies are sensitive to down and feather pillows.
Foam fillings are quite versatile. Memory foam is often used for contouring, but over time it also tends to compress and stops providing the support that it did when it was first purchased. This will require more frequent pillow purchases.
Shredded foam is an alternative that can provide both the softness that you get in a down pillow and the support that you get with a foam pillow. In addition, the foam filled pillows provide support over a longer period of time. Shredded latex is a common filler that lasts longer. It is recommended that you get natural latex however because natural latex is hypoallergenic and even people with synthetic latex allergies will have no reaction to it.
The Kenko Naturest Pillow is a great choice because it's adjustable & supports all three sleeping positions.