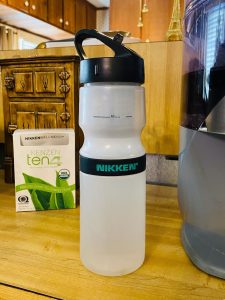 Nikken PiMag Water Bottle
With your Active Wellness Life Style, you want an on-the-go water filter.   The new Nikken PiMag Sport Bottle is just that. This filter is unique because it reduces certain harmful pathogens significantly in a portable water filtration bottle. This includes chlorine, which is in all tap water and most bottled water.  Chlorine is needed to clean the water, but you don't want to drink it. The water produced is clean and has an improved taste over both tap and bottled water.  The PiMag water bottle is the best water bottle filter for hiking.  It is also the best travel filter bottle whether you are on a road trip, flying across country or traveling out of the country.  You will want to take it everywhere you go.
IMPORTANCE OF TRAVEL TAP WATER FILTER
Drinking enough water daily is vital for good health.  It supports the immune system, improves sleep, improves cognition, and improves moods.  We are living in uncertain COVID 19 times.  There is no cure for this virus, but we can and should support our immune health.  Tap water can be obtained most everywhere you go at no cost.  If you have access to tap water then you have access to all the pure water you need.  This instant water purifier bottle will allow you to drink tasty clean water all the time to promote your vital wellness.
AN ENVIRONMENTALLY FRIENDLY PIMAG SPORT BOTTLE
More and more people are concerned about the pollution caused by disposable water bottles. Landfills in the United States have more than 2 million tons of disposable water bottles in them. It is estimated there are another 8 million tons in the ocean. Soon there will be more plastic in our oceans than fish if we don't find a solution.  Each individual disposable water bottle takes 1000 years to decompose.  While the bottles are decomposing, harmful chemicals are released into the environment. The Nikken Sport bottle is green and the right choice for those who are environmentally conscious. In the landfill, it becomes dust within 30 days of the methane gas reaching it. The water bottle with filter inside is recyclable.  This makes it the best water purifier bottle for our planet. If we don't take care of our planet where are we going to live?
A MONEY SAVING WATER BOTTLE WITH BUILT IN FILTER
Bottled water is much more expensive than water from your tap and less safe.  You pay between .89 to $8.26 per gallon for bottled water.  When you purchase your PiMag Water Bottle and you can use it for years to come.  Simply fill it up with tap water and change the filter about every 3 months.  You save a lot of money using this tap water filter bottle. Using municipally treated water is a better choice than bottled water. Combining municipal water with a Nikken water bottle is a better and safer choice for your wellness. When you save money and improve your health with one new habit, you have created a great win/win.
BENEFITS of the FEATURES in the SPORT BOTTLE by NIKKEN
This new filter bottle is the only water bottle filtration bottle system that combines a Nano filter, alkaline water bottle filter and a filter that can decluster water molecules and improve hydration.
Nano water filtration system technology combined with the charcoal filter water bottle synergistically increases the filter's ability to reduce contaminants such as pathogens and micro-plastics that are sometimes found in drinking water. This is the advantage of Nano filtration water. State of the art Nanofiltration system technology was first developed at NASA. This is a space age water bottle.
This is a patented alkaline water bottle that has media to provide alkalization and it increases the pH of the water from 7 to 8.5. This creates a 15 to 25 fold increase in pH. The water bottle filtration system changes the pH of the water from an acidic to an alkaline range and this reduces the oxidation-reduction potential.  The reduction provides protection from the harmful effects of free radicals in the water. Your water provides antioxidant protection.
Four 4,600+ gauss neodymium magnets help decluster the water molecules, and improve the bioavailability to the body's cell structure. Smaller clusters of water molecules are easier for the body to absorb. Drinking declustered water helps you hydrate your body more easily and efficiently.
• Nikken's Filtration Bottle is made with patented Biogreen material, which is an additive, called EcoPure. The bottle is made of Bio-treated plastic. The EcoPure additive enables the bottle to decompose completely into biomass that nourishes soil. It can also be collected and used for energy. The water bottle is good for the environment.
Nikken's refillable water bottle with filter is not effected by light, heat or humidity.
• The filter drink bottle helps decrease landfill waste because the components are replaceable. This extends the life of the best water purification bottle for your reuse for years to come and it helps protects the planet from pollution.
The taste of water is important. The reason most people don't like water is because of the taste of the chemicals in it. This purifier bottle improves and enhances the taste of the water in an eco-friendly manner. Kids love this water too.
Nikken's reusable alkaline bottle has a new improved drinking spout with a replaceable flip top, which makes it more sanitary. It has a loop, to make it convenient to attach to your belt, backpack, lanyard or a hook.   You can easily take this bottle with you and you will be less likely to loose it because of this feature.
This invigorated water bottle is easy to handle because it has a comfortable sport grip.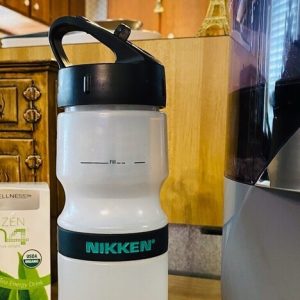 NIKKEN'S PERSONAL WATER FILTER BOTTLE TECHNOLOGIES
This water to go filter bottle has the same technology as the countertop Nikken PiMag Water Filter plus it has a Nano Filter Water.  So when traveling, camping, eating out at a restaurant, or just driving around in your car; you have clean pure water just like from you Nikken PiMag Waterfall at home.
HERE IS HOW the NIKKEN SPORT WATER BOTTLE FILTER TECHNOLOGY RATES with ANSI/NSF STANDARDS
It exceeds the standard for Particulates (clarity, sediment).
It exceeds the standard for Chlorine reduction.
It exceeds the standard for Chloramine reduction.
It exceeds the standard for Taste and odor reduction.
It exceeds the standard for Cyst reduction.
It exceeds the standard for Lead reduction.  It removes up to 98.6% per 40 gallons as tested by BCS labs.
It exceeds the standard for Bacteria reduction by removing more than 99.99%.
It exceeds the standard for VOCs (Volatile Organic Compounds).
It exceeds the standard for MTBE (methyl-t-butyl either which are fuel oxygenates often found in water).
Nikken's technologies create the best water bottle filtration system for you.
NIKKEN'S TECHNOLOGIES CREATE the BEST WATER BOTTLE FILTRATION SYSTEM FOR YOU
Nikken's PiMag Water Technology
Patent-pending Nanofiltration
Patent-pending alkalizing media
Declustering
Patented Biogreen materials for bottling
FREQUENTLY ASKED QUESTIONS (FAQs) about the WATER FILTER DRINK BOTTLE
How much water does the best water filter water bottle hold?
Twenty-One ounces (621 Liters) of pure water is always available in your water bottle with inbuilt filter.  It is low maintenance.  Wash out the bottle each night with mild soap and a brush and leave it to dry. No maintenance required on the filter.  The next morning you fill your water filter squeeze bottle with 21 ounces of water from the tap and you can immediately start drinking clean fresh alkaline water. Twenty once ounces of water isn't very heavy to carry around with you, which makes it more portable for your convenience.  You can refill it as often as you like.
How long does the filter last for the water bottle with the filter inside?
The filter lasts 3 months with average use.  It is estimated the filter is good for up to 250 refills per liter or about 40 gallons.   The replacement filters come in a pack with two filters for your convenience.  You dispose of the filter in the landfill and in about a year it completely decomposes and becomes food for the soil.
How do you use the alkaline purifier bottle?
You raise the drinking spout, raise the bottle up in your hand, and squeeze the bottle and drink.  Fresh, clean, energized alkaline water is always available whenever you fill your sport bottle with water filter and turn it up to drink.  Even toddlers can and do drink from this bottle and love it.
Get Yours by Clicking Here: