Magnetic Pillow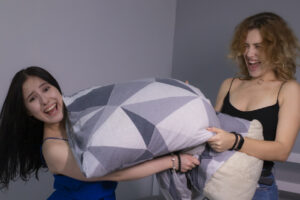 Find your perfect fit with the versatile Nikken Kenko Magnetic Pillow.
Whether you like it soft or firm, you can easily adjust the firmness to your liking. Simply remove or add back the latex filling.
Plus, you can customize the neck support separate from the head support.
Experience the ultimate comfort with the Nikken pillow.
Say Goodbye to Flat Pillows!
Do you ever wake up in the morning with a stiff neck or sore shoulders?
Unfortunately, many pillows simply don't have the staying power to keep you comfortable through the night.
The Nikken magnetic pillow uses rolled natural latex as the filler. It stays fluffy and supportive for years. But it's not just about longevity – the feeling of sleeping on a cloud is simply unbeatable.
And when it comes to spinal alignment, the Naturest pillow has it down to a science.
With an insert that separates head and neck support, this pillow is customized to provide the best possible support for your individual needs.
So why settle for anything less than the ultimate in comfort and support?
A Warm Magnetized Embrace
Imagine sinking into a pillow that feels like a warm hug, but instead of arms, it has a magnetized embrace. That's the experience you'll get with this innovative magnetic therapy pillow.
With magnets arranged to surround your head in a cocoon of magnetism, you'll feel the tension melt away from your neck and shoulders.
And because the magnets are virtually weightless, you'll hardly even notice they're there. It's like having a spa treatment right in your own bed, night after night.
Improve Your Overall Health and Wellbeing
If you're like most people, you probably spend a good chunk of your life sleeping or lounging on a comfortable pillow.
After all, a good pillow can make all the difference in the world when it comes to getting a good night's rest or simply relaxing after a long day at work.
This innovative pillow is different from anything else on the market thanks to its patented DynaFlux magnetic technology.
With 360 degrees of relaxing magnetic coverage, this pillow is designed to help reduce stress, promote better sleep, and even ease pain and discomfort in your neck and shoulders.
Energetic Support
The opposing magnets inside this pillow use magnetic technology to create energy shifts in the magnetic field as you move while sleeping. These shifts increase the magnetic field penetration into your body, providing better support for not only your head and neck, but also your arms, legs, back, and abdomen.
Click here for more information.